On the corner of Jackson and Acland Street on a bare and nondescript rooftop, the Jackalope Pavilion houses a once in a lifetime, immersive art experience
The Rain Room is now in Australia following roaring success from Los Angeles to the NYC Museum of Modern Art, London's Barbican and the Yuz Museum of Shanghai
The Rain Room is a 100 Square Meter Field of continuous rainfall, as attendees move through it, they are protected from the millions of drops of water as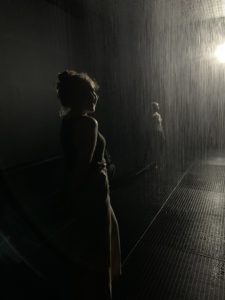 technology tracks their path.
Random International seeks to explore modern humanity's relationship with nature and our environment and the way it is mediated through technology. The Rain Room is produced by Random International in conjunction with ACMI brought to us from the Jackalope Art Collection.
Attending the installation is an enriching experience for an evening out in Melbourne's vibrant suburb of St Kilda. Summer in St Kilda is unlike other spaces in this city. Under the heady sway of good food and wine amongst the sweeping boulevards and hot, hazy sunsets, even l
ocals would be transported into the carefree holiday spirit.
Stepping from that world into the cool, dark immersion of a downpour that never drenches you becomes an otherworldly experience.
The Buckingham highly recommends exploring nearby St Kilda and experiencing this once in a lifetime opportunity.
For more information and booking please visit  visit https://www.jackalopehotels.com/art/rainroom