SCHOOL HOLIDAY MADNESS
It's coming close to the end of the school holidays although we're slightly happy to be sending the kids back to school, there's still some time to take them to enjoy some activites which are both kid and adult friendly. We've listed some of our favourite activies we've done these school holidays with our kids, hopefully this will inspire, aspire and perhaps perspire parents and kids for the remainder of the holidays.
1. Keep out of the heat 
Although Melbourne weather is completely inconsistent, it's been quite a hot January so to keep out of the heat why not take the kids ice-skating. With ice-skating rinks in Oakleigh and Docklands this is the perfect activity for both parents and kids. O'Brien Group Arean l
ocated in the Docklands have various events during the school holidays for the young ones enjoy and once you've finished skating up a storm the Docklands is the perfect spot for lunch or to shop around. Whether you've never skated before or pontentially the next Michelle Kwan ice-skating rinks around Melbourne have got you covered.
2. Burn calories and have fun
When we thi
nk of exercise we don't really associate it with pleasure especially when you could be outside by the pool with a good book in one hand and a mojito in the another. However, trampolining is possibly the best way to burn off some of that xmas pudding with it being one of the most effective and effcient ways to excercise and guess what? you'll actually enjoy it . Kids will not get enough of jumping on various trampolines with activites such as flight academy, dodgeball, basketball, the X-park obstacle course (both for adults and kids). If you have little jumpers under 5 there's also a special section just for them to exude some of that energy. Parents can have a jump around as well maybe show your kids a trick or two but once you're puffed there's a cafe located on the premises for coffee and quick re fuel. Bounce Inc. is located all around Melbourne, the closest one from the Buckingham International being the Glen Iris location.
3. Relax, Swim and Drink
Okay, so this is mostly an indulge for the parents but we deserve it. Brighton Baths and all of its elegance is a great place for b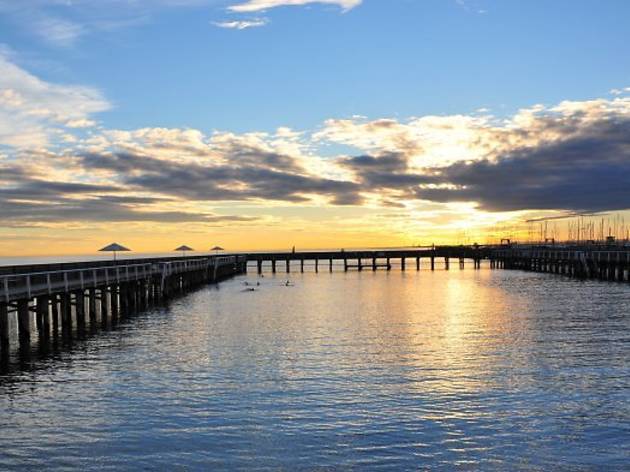 oth kids and parents. Brighton baths have a section of the  beach enclosed for swimming, kayaking and paddle boarding – how fancy is that? Essentially you're own section of the beach. Not only does Brighton baths offer water activites but immerse yourself in enjoying the steam room or even a yoga or beach fit class. Head to The Baths Middle Brighton, the perfect place to wind down with perhaps a glass of wine, enjoy the various selection of contemporary food with views overlooking Port Phillip Bay.