The Buckingham is in the small suburb of Highett, about 30 minutes south of Melbourne's CBD.
Between here and that bustling hub there are a lot of fantastic places you can go to become immersed in the culture of Melbourne and the Bayside area. Here are a few of this author's recommendations:
Highett
Hot Lips
Location: On the corner of Highett Road and Station Street.  Just a 5 minute walk from your accommodation (if you stay at the Buck of course 😉 )
Description: Best margarita in town and an incredible authentic Mexican menu backing it up!
Author's Tip: Get a pitcher but don't share it
Hawker Bar

Location: Highett Road, only across the road from Hot Lips  is Highett's cosy little Hawker Bar.
Description: This local hot spot is bound to lull you into a sense of comfort and familiarity with the little suburb of Highett
Busbys Bar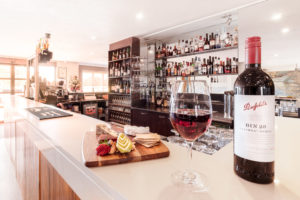 Location: 1130 Nepean Highway, close to the intersection of Highett Road and Nepean Hwy
Description: We're not biased at all… but Busbys does some dang good cocktails! Attached to the iconic Buckingham hotel the spirit of hospitality flows throughout this premises. Staff will always go above and beyond to make their patrons comfortable. Busbys is not just for guests of the hotel, so come and give this hidden gem a go.
Prahan/ Chapel Street
Easy access via South Yarra Station on the Frankston Line or Prahan Station on the Sandringham line 
Abacus
Description: High-ceilings, exposed brass piping, an abundance of plants, and floor to ceiling glass doors that open out on to Chapel Street, Abacus is the hipsters' paradise. With dynamic seasonal menus Abacus patrons are kept on their toes, food items may come and go but the quality and ambiance are pervasive and enduring.
Author's Tip: Speaking from personal experience, Abacus potentially serves one of the best espresso martinis in all of Melbourne, and I will stand by that until I die… or I find an even better one.
Electric Ladyland
Description: Only accessible by a rather imposing set of red carpeted stairs Electric Lady land is a warm and inviting den of dark leather, soft lighting and private booths.  Perched over Chapel street, this is the perfect place to have intense conversations over a glass of neat Scotch Whiskey. Or, you know, just to chill.
Author's Tip: The stairs don't seem so challenging on the way in but they really can be on the way out… if you're not very co-ordinated I recommend the lift.
La La Land
Description: Like Electric Ladyland but on the ground floor.  Eclectic velvet and leather furniture, a sprawling layout and an ambiance borrowed from the office of a tenured Harvard academic  from 1949.
Melbourne
Beneath Driver Lane
Description: Three words: Underground Jazz Bar.
Author's Tip: Signature craft beer is not to be missed, even for infrequent beer drinkers it is a delightful brew.
State of Grace
King Street Location (super easy to get to from Southern Cross Station)
Description: Recently refurbished with a spacious rooftop, cosy interior, and cellar bar hidden behind a secret bookcase door. Essentially; cool.
Arbory
Description: Popular for a reason, on the Yarra, next to Flinder's Street, Arbory is accessible, open to their air and awash in Melbourne's bustling ambience.
Author's Tip: Try the hot truffle oil chips topped with pecorino cheese. They will change your life.
Honorable Mentions:
A roof top bar and gin garden, perfect for a summer night
Chequerboard floor, fancy, and coffee great cocktails
A rather classy establishment that also contains a secret lounge behind a bookcase.
So there you have it! A few choice selections from the veritable buffet if gustatory delights that Melbourne has to offer.  I hope it helps you to find  the spirit of the city on one of its many establishments.